Free Bullet Resistant Barrier Project Consultation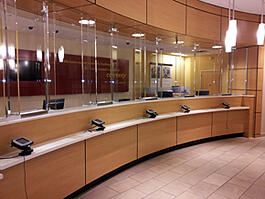 Contact us today, and one of our bulletproof barrier consultants will guide you through the planning process, including:
Selecting the appropriate bullet resistance level for your security needs
Measuring properly for a smooth installation and secure fit
Choosing appropriate materials and accessories
Avoiding common design and installation mistakes
Save time and money by involving us early in your project!
Request your free phone consultation today.
---
ABOUT TOTAL SECURITY SOLUTIONS
Bulletproof Glass & Bullet Resistant Barrier Experts
Total Security Solutions produces the most comprehensive line of bulletproof barriers and products available. TSS plans, produces, and installs bulletproof barriers that are aesthetically pleasing and blend seamlessly with your work environment. Three decades of experience have made Total Security Solutions an industry leader in bullet resistant barrier systems, and the TSS team brings that expertise to bear on your security challenges.