Free Bullet Resistant Barrier Consultation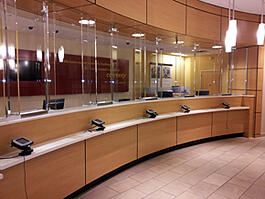 Need to get started with your bulletproof barrier project? Our experts are ready to help you with a free consultation to determine your needs.
In our call we'll discuss:
Your current physical security features
The basics of ballistic security
The appropriate level of bullet resistance for your building
Recommendations for bulletproof products
Contact us today!
---
ABOUT TOTAL SECURITY SOLUTIONS
Bulletproof Glass & Bullet Resistant Barrier Experts
A leader in the bulletproof industry, TSS has decades of experience and is guided by three core principles: customer service, customization and speed. Our design and installation experts will work hard to deliver a customized, bullet resistant system that meets your needs, looks beautiful, and fits in your budget.